Corazzina type-2 multicolor
Corazzina type-2 multicolor
Corazzina type-2 multicolor
ID: 12103
---
The brigandine was naturally developed from early coats of plate, a reinforced surcoat from the XIII century. One of the rare examples of this early armor type can be seen on the statue of St. Maurice in Magdeburg Cathedral (1240). St. Maurice is depicted dressed in chainmail and a surcoat. There are two rows of rivets on the body of the armor. Thus, we can assume that the steel plates were riveted from the inside of the fabric surcoat. They covered the chest all the way up to the throat, which is evident because the same row of rivets is visible on the shoulder line. Corazzina brigandines are one of the many brigandine types heir to the early plated surcoat and we are pleased to be able to offer it to you in a beautiful multi-colored motif.
Our Corazzina Type-2 can be made in a custom 1/2 or 1/4 color design. You can choose between suede leather or wool for the shell covering and we have a variety of colors available.
Please refer to the illustrations below when selecting your color pattern. The different sections of our Corazzina Type-2 are marked with "color A" and "color B". In the options below, please select your preferred pattern and then choose your colors based on where you would like them placed on the brigandine.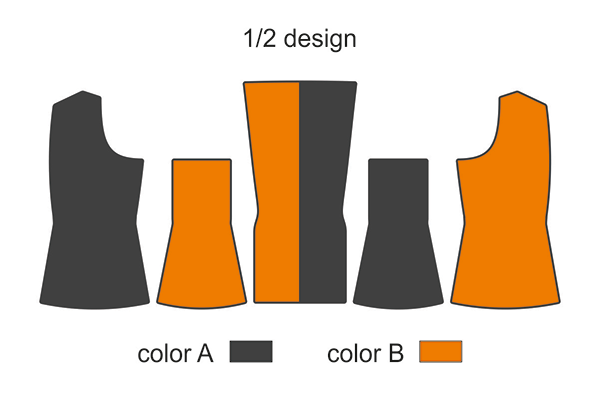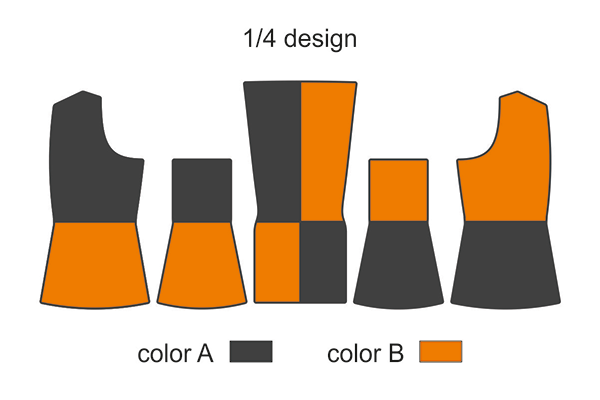 Please note, that measurements should be with padding/gambeson.
---
History list