At our website you can buy equipment for the full contact medieval combat regulated by IMCF, HMB, SCA, ACL. We offer the wide range of the materials for your armor: mild steel, hardened steel, stainless steel, titanium.
There should be a padding under the armors. So the quilted gambeson and stockings are the first outfit you'll need to start the training.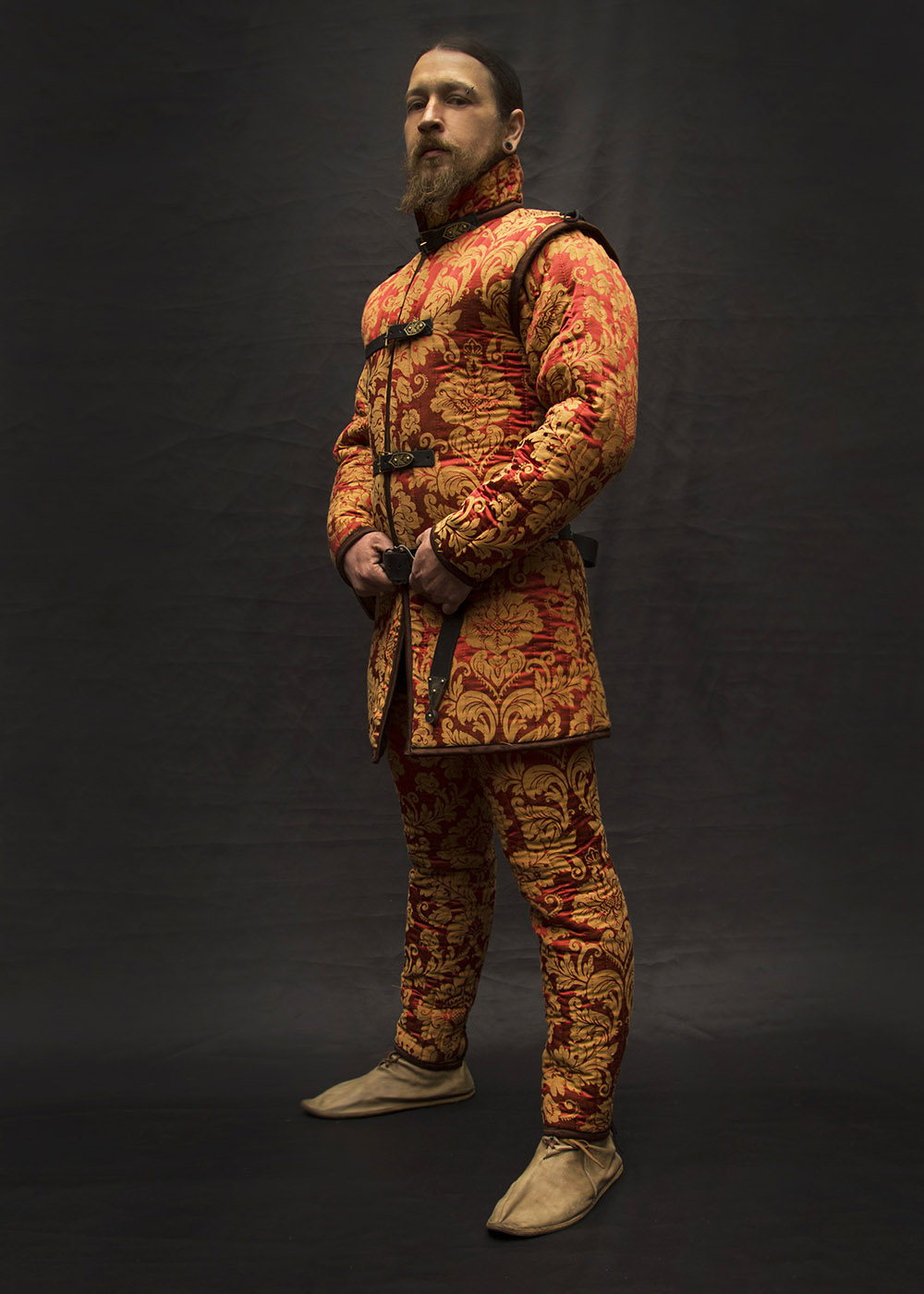 The main purpose of gambeson is cushioning. It should not be too thick. Otherwise the problem of overheating and bad movability would hit you before your opponent does. Two layers of sheet wadding for gambeson and stockings are enough. Good fitted steel armors play a major role in protection of your body during the tournament. So the main goal of padding (in HMB/IMCF/WMFC etc.) is to absorb the impulse of the hit.  Furthermore, we offer an option of the single layer padding. One layer sheet wadding gambesons are also permitted by the rules & regulations of HMB/IMCF/WMFC etc. If you don't have a padding yet, you can order one of these sets:
Padded Set Gobelin, Padded set type-2, Padded set quilted vertically.
Or choose the type of quilting and colors of stockings and gambeson by yourself from our catalog
Concerning the choosing of the armor equipment. What are the key factors for the right decision? We pay careful attention to each of them. Ask yourself the questions below:
– what type of medieval combat would you like to take part in: mass battles or 1 vs 1 tournaments?
– what armors do you like: white armor (plain steel) or brigandine type armor?
– how much would you be willing to spend on it?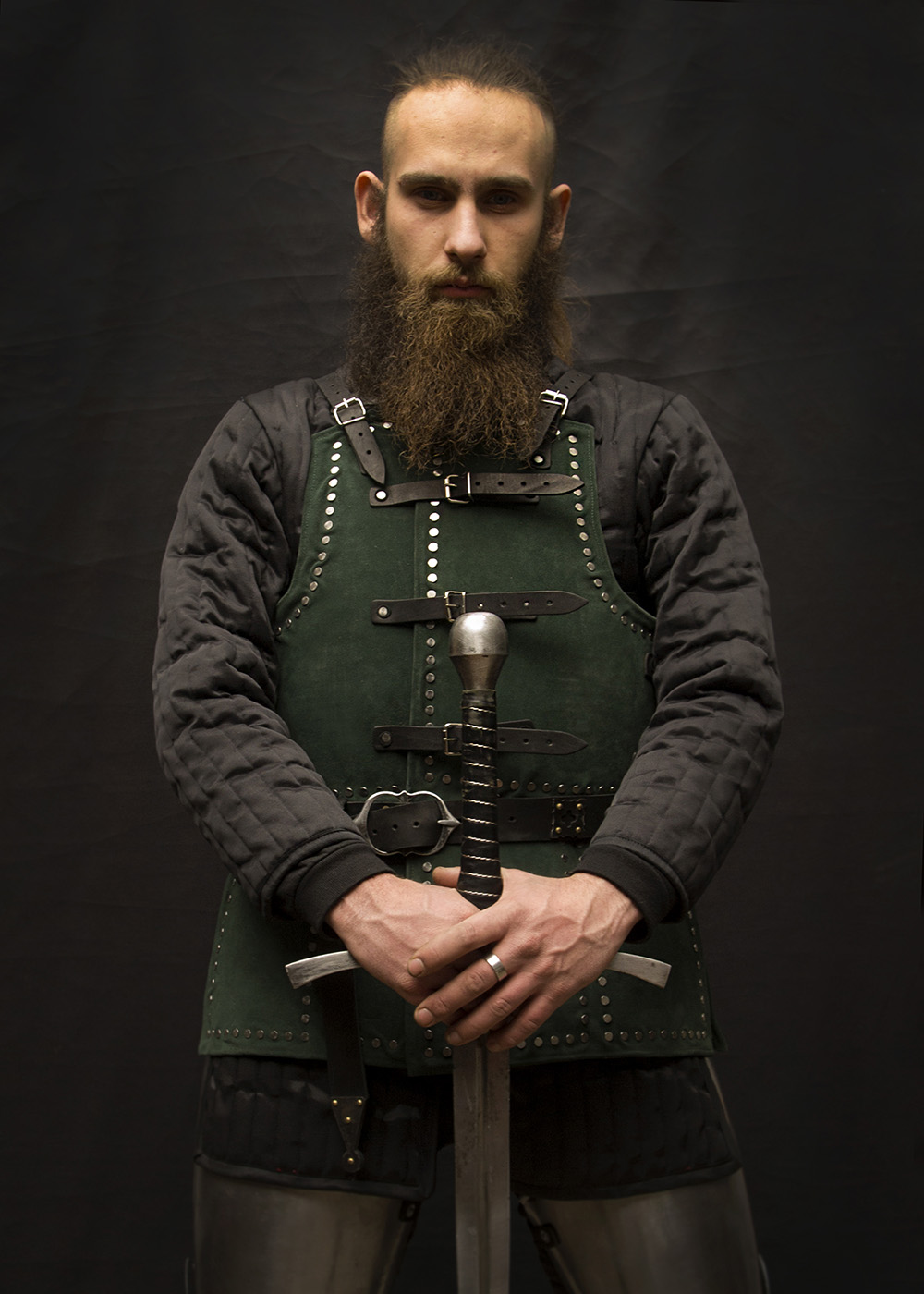 The official rules of HMB and IMCF allow use of 1.0mm tempered steel armor which is completely enough for full contact medieval combat. Some sportsmen even use 0.8mm tempered steel armor or elements for body protection to minimize the total weight of armor.
You can mix different materials in your armor kit. Some parts can be made from mild steel or tempered steel, and another ones – from titanium. For example. It's self-evident that you'll hold the additional weight of shield and sword (or another weapon you chose). So the arm armor can be done from the light weight material. On the other side, the leg armor can be done from 1.5mm mild or tempered steel. Because this weight will be balanced mostly on the waist and hips.
Small wonder that much of the advantage belongs to titanium. It's very light and durable material. Weight of the titanium armor compared to the same one made of steel is 40% less. What's more – no worries about the rust. This space material doesn't get corroded after contact with the water and sweat.
You are welcome to choose the armor of one of the standard sizes or provide your own measurements for the custom sized armor. Our measuring scheme will help you to take measures right.
And what about the helmet?
The same range of materials are available as options: mild steel, tempered steel, stainless steel, titanium.
If you have doubts we would recommend the 2.0mm tempered steel option. It's a favorable solution for the price, weight and protective qualities. However, 2.5mm thick helmets are really good for the heavy buhurt.
When you choose the option "with liner" for your helmet – your "bare" head measurements will be considered appropriately. Patterns of the helmet will be designed to include the thickness of padding and fit your personal measurements. If a helmet is ordered without padded liner or coif – you'll be asked to provide your measures with your own padding. Required head measurements are: head circumference above the eyebrows.
Small advice: while choosing the armor – don't ignore the feet protection. Sabatons are really essential part of equipment in such an exciting sport as medieval full contact fighting.
Below you'll find the list of armors we would recommend you to start with.
Helmet:
Body armor:
Arms:
Spaulders:
Hands:
Legs:
Feet: